With the emergence of new technologies such as the Internet of Things (IoT) and more specifically RFID technology, hotels are reinventing themselves to improve the customer experience and offer an ever more quality service.

The use of IoT technologies in the sector is becoming more and more important, especially with innovative solutions being put in place with the aim of obtaining better visibility of textile-related processes. More and more companies, not only in this sector but also in hospitals and care homes, are providing themselves with "intelligent textiles" in order to optimise and control the traceability of their linen.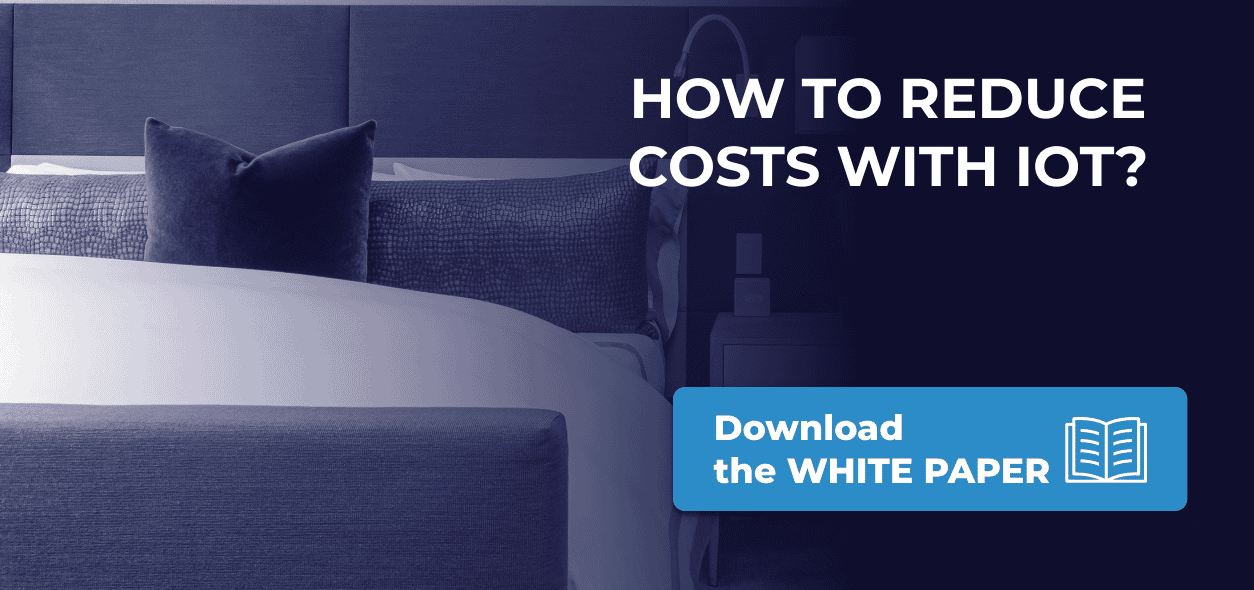 Linen management, a major challenge for the hotel industry
In general, the motivation to implement the solution comes from the owner of the linen. Hotel linen and laundering is the largest material expense in a hotel. When the hotelier owns his linen, they are aware that they lose some but they do not know where, why, how much and the long-term costs that this represents.

At this stage of the consideration, in order to be aware of the costs caused by these losses and to consider putting in place a traceability solution, the customer should embark on an information search process such as:
Cost of resupply of new linen

Cost of staff who manage the laundry

Time spent on linen management (receipt, shipping, inventories)

Origin of resupply: losses, rejects

Costs of laundering the linen

Type of container for storage, shipping, receipt and distribution of linen

Operational process for linen management
Good management of these losses can result in significant savings for the hotel services or laundry service provider and enable them to focus on improving the quality of services offered to their customers.
In addition, one of the emphasised aspects explaining why a hotel turns to IoT technologies is the time spent on the management of the linen itself.

Having large quantities of linen sets in circulation requires a significant staff commitment, and in the vast majority of hotels this is still done by a manual process, which generates many errors and significant losses. RFID technology makes more efficient linen management possible, reducing staff and service costs
More efficient linen management thanks to IOT
UBI Laundry is a complete laundry tracking solution, consisting of four elements: RFID tags, hardware, software and service.
RFID tags
The UHF (Ultra High Frequency) RFID tag is the main element for linen tracking. It is attached to the linen during its production and is resistant to various washing processes and chemicals. The choice of a UHF RFID tag model is essential to achieve high reading efficiency and optimal functioning of the solution. To be able to read the UHF RFID tag correctly, it is also essential to choose the associated hardware carefully.
Hardware
There are different types such as: reading booths, reading arches, mobile readers and reading antennas. The choice of the right type of hardware depends on several factors which should be determined when drawing up the specifications.


Software
Then, in order to access the information sought, software that is capable of gathering all the reading information in real time must be put in place. At UBI Solutions, we are pioneers in the implementation of Cloud-based solutions in SaaS mode. Our solution consists of two elements: UBI Manager and UBI Cloud.
UBI Manager is an essential part of the solution. It is responsible for "filtering" the millions of readings taken, monitoring the systems and the interfaces with all the existing systems.


UBI Cloud is a Web Cloud-based solution that provides access to all the information collected via the RFID readings taken. It is UBI Cloud that allows all reports and key indicators to be generated in real time.
Example of key reports and indicators generated on
UBI Cloud:

- Flow analysis
- Global stock - Daily flow
- Evolution of the stock
- Number of washes
- Financial



And finally, in order to coordinate all these systems and processes, integrate them into existing management systems and ensure the smooth deployment and operation of the solution, the services of an integrator such as UBI Solutions, offering a turnkey service, are indispensable.
Who and what does this information serve?
Linen management is one of the most important issues for a hotel in terms of costs and process. Every day, the comings and goings of linen are managed by a very large number of stakeholders.
Transparency of information
One of the main advantages of the RFID solution from UBI Solutions is that it provides transparency for the entire linen flow. This strengthens the relationship of trust between a hotel and its laundry service providers or vice versa.
The solution provides access to previously unknown real-time information such as: all incoming and outgoing linen flows, stock levels and developments, number of washes per article, number of losses and the costs involved, origin of linen losses, etc.
"These new technologies, which among other things enable us to know the total flow of circulating and non-circulating linen in real time - in a few minutes - will help hoteliers considerably in their daily management."
Renaud Munier, Marketing and International Development Director
A decision-making tool
This information enables them to have full control over all their textiles resulting in an improvement in the efficiency of processes (administrative and operational) and the relationship between customer and supplier based on reliable, clear data.
As a result of IoT technologies and in particular the RFID solution from UBI Solutions, managers in the hotel industry have a new information management tool with which they can analyse and make informed decisions.