Moving towards automation of hospital processes
Ageing populations, staff shortages, rising costs, crisis management, there are many factors for the numerous challenges and issues facing the health sector. Existing methods and processes increasingly need to be adapted to cope with these operational challenges. Technology and automation can help hospitals in this adaptation and transformation.
A simple example. A study by Frost and Sullivan conducted on behalf of GE shows that the ineffective tracking of mobile equipment in Australian hospitals, and the resulting losses, cost the national health system €38 million per year (1) (when compared to the European budget, this would represent €500 million).

Even worse, it does not take into account the loss cost for the 30 minutes per day that hospital nurses spend searching for this mobile equipment. Compared with the average European wage (2) this represents €2,730 per year per nurse, or €10 billion per year taking into account the 3.7 million nurses in Europe (3)! These figures are mind-boggling.
Efficient stock management and equipment tracking is essential, both financially and operationally. Often, the lack of real-time visibility of assets affects the reliability of stock levels for equipment and supplies (waste, losses, stock-outs) which usually results in wasted time, difficult decision making and an uncomfortable situation for staff.
By optimising the daily processes of health workers, it is possible to reduce needless daily tasks and costs, and increase time spent on patient care.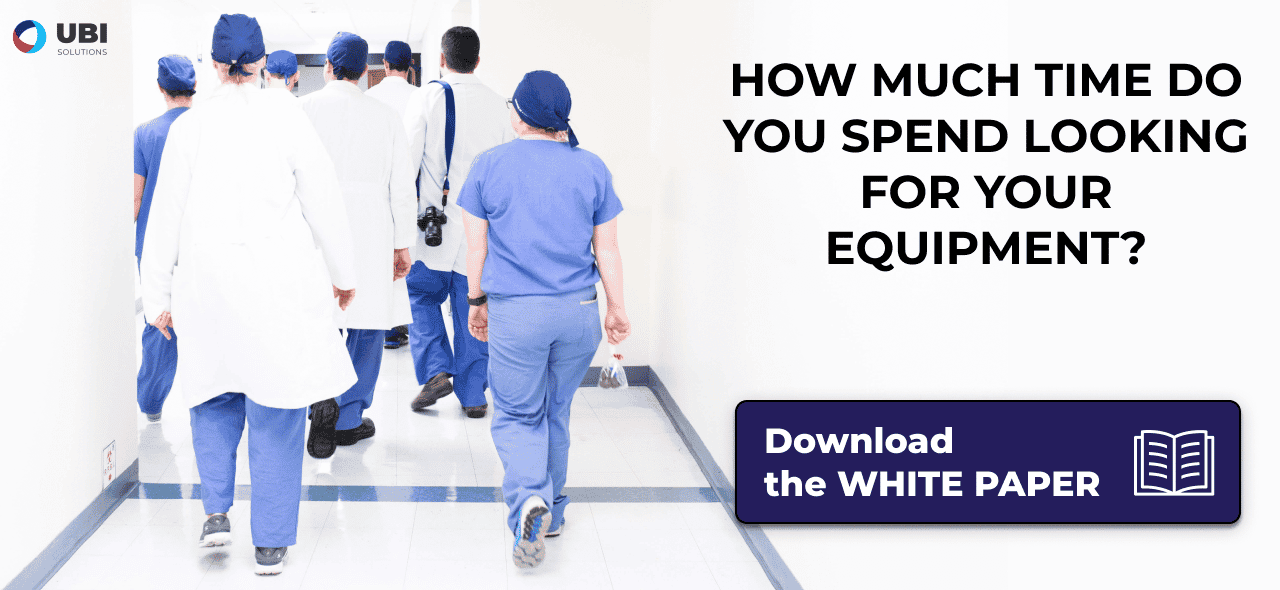 Tailor-made solutions suitable for all needs
To ensure the smooth, efficient operation of health care and emergency services, many hospitals are now able to track all mobile assets inside and outside the establishment using IT systems. Whether they are assets related to patient care (beds, wheelchairs, blood bags, infusion sets, etc.) or those with a high monetary value, this traceability can not only make it possible to make significant savings, but above all to guarantee the efficiency of staff and the health of their patients.
These traceability solutions are used in many healthcare institutions. Amongst other things, they make it possible to optimise:
The attention and care given to patients:

Reduce waiting times

Improve the quality of care

Trace and monitor care and analysis

Check the expiry date of special medicines
Stock and supply management:
Ensure that staff have all the necessary equipment and supplies


Carry out inventories in record time, control pharmacy stocks
Monitoring of assets, devices and others:
Know in real time the movements and position of all the hospital's assets

Reduce losses and thefts

Tracking of linen and uniforms

These automated systems use new technologies such as RFID (Radio-frequency identification) and IoT (Internet of Things) with active tags using BLE (Bluetooth Low Energy) technology. In both cases, they reduce data collection times and provide reliable results in real time.
UBI Solutions is supporting the healthcare sector in its digital transformation

UBI Solutions has been developing solutions for the healthcare sector since 2011, when we implemented the first traceability system for linen and healthcare uniforms, using UHF RFID technology, in the BIH (Blanchisserie Inter-Hospitalière) laundry, located in St Germain en Laye.
This project was born of the need for laundries and hospitals to find a solution giving better visibility of their flows and thus optimising the management of their linen
Reading cabin to read the RFID chips attached to each sheet



Find out about the RFID solution through the account from Luc Videau, director of the BIH.
In addition to improving the UBI Laundry solution, which has already been implemented in many hospitals and healthcare laundries in Europe, we have developed other solutions focused on locating medical equipment, using BLE technology and geolocation with the least amount of human intervention.
Within the hospital, the solution makes it possible to:
Perform inventories in real time

Locate assets quickly

Reduce thefts and losses

Control the temperature

Outside the hospital, the solution makes it possible to:
Carry out real-time inventories of equipment in ambulances

Identify the equipment to be inspected or maintained

Monitor equipment movements in real time

Instantly view ambulance journeys

Movement tracking with trip history
Finally, using the same BLE technology, we have developed a solution focused on the control of pharmaceutical products at the distribution points in hospitals, based on the Kanban system.
Hospitals equipped with these new technologies are improving their efficiency and operation more intelligently, thus enabling them to achieve safer and better results. At UBI Solutions, we are making every effort to support a sector at the heart of our society, which has been hit hard by the health and financial crises, by providing optimal working conditions for healthcare staff.